Computational Model of Film Editing for Interactive Storytelling
Generating interactive narratives as movies requires knowledge in cinematography (camera placement, framing, lighting) and film editing (cutting between cameras). We present a framework for generat- ing a well-edited movie from interactively generated scene contents and cameras. Our system computes a sequence of shots by simultaneously choosing which camera to use, when to cut in and out of the shot, and which camera to cut to.
La génération de contenus narratifs interactifs sous forme d'animation 3D nécessite des connaissances en cinématographie (placement des caméras, cadrage, éclairage) et en montage. Nous proposons une approche permettant de générer automatiquement des films cadrés et montés selon les règles de l'art à partir d'animations 3D et de caméras virtuelles créés dynamiquement. Notre système calcule la séquence des plans du montage final et les instants de coupe entre les plans.
Fichier principal

2011_-_Computational_Model_of_Film_Editing_for_Interactive_Storytelling.pdf (822.31 Ko)
Télécharger le fichier

computational_editing.png (133.78 Ko)
Télécharger le fichier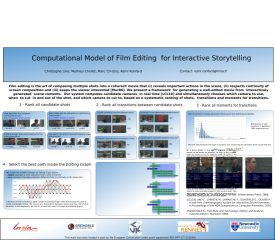 poster-hal-00646405.png (3.7 Mo)
Télécharger le fichier
Origin : Files produced by the author(s)