Decentralised Multiple Workflow Scheduling via a Chemically-coordinated Shared Space
Community clouds have arisen as a promising infrastructure to face the ever-growing demand for computational power needed by applications. In such a community, different cloud providers federate their resources, allowing users to run applications across multiple sites through a global workflow scheduling system. However, current workflow scheduling approaches exhibit limited scalability, as they rely mostly on centralised scheduling mechanisms, and thus cannot fully leverage possible cooperation among cloud providers. To overcome these limitations, we propose a fully decentralised workflow scheduling system which uses a chemistry-inspired model to coordinate decision making in a community cloud platform. Our system implements a distributed shared space inside which resources are associated to tasks, enabling a decentralised decomposition of workflows into tasks. They are then independently mapped onto resources. In particular, in spite of decentralisation, the system is able to select the momentarily most appropriate resource for a given task, independently of the cloud provider the resource is located on. The framework's expectations in terms of scalability are captured through simulation experiments.
Les nuages de cacul communautaires (community clouds) apparaissent aujourd'hui une infrastructure prometteuse pour faire face á la demande en puissance de calcul toujours grandissante des applications. Dans une telle plate-forme, différents fournisseurs de clouds agrègent leurs ressources, permettant ainsi aux utilisateurs d'exécuter leurs applications sur une plate-forme étendue de façon transparente, à travers un système d'ordonnancement global. Nous considérons des applications à bases de graphes de tâches (ou workflows). Cependant, les systèmes d'ordonnancement de workflows actuels ont un passage à l'échelle limité, car ils s'appuient sur des ordonnanceurs centralisés, et ne peuvent pas correctement exploiter cette plate-forme collaborative. Pour palier ces inconvénients, nous proposons un système d'ordonnancement totalement décentralisé, qui s'appuie sur une métaphore chimique pour la prise de décision coordonnée. Ce système met en oeuvre un espace virtuellement partagé dans lequel les tâches des workflows sont associées aux ressources de la plate-forme de façon décentralisée. Malgré cette décentralisation, la plate-forme proposée est capable de sélectionner globalement la meilleure ressource courante pour une tâche qui est prête à être exécutée. Le passage à l'échelle du système est capturé à travers des expériences de simulation.
Fichier principal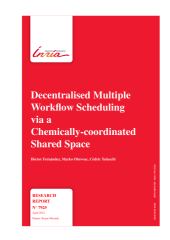 RR-7925.pdf (1.03 Mo)
Télécharger le fichier
Origin : Files produced by the author(s)