Supporting Experimental Computer Science
The ability to conduct consistent, controlled, and repeatable large-scale experiments in all areas of computer science related to parallel, large-scale, or distributed computing and networking is critical to the future and development of computer science. Yet conducting such experiments is still too often a challenge for researchers, students, and practitioners because of the unavailability of dedicated resources, inability to create controlled experimental conditions, and variability in software. Availability, repeatability, and open sharing of electronic products are all still difficult to achieve. To discuss those challenges and share experiences in their solution, the Workshop on Experimental Support for Computer Science brought together scientists involved in building and operating infrastructures dedicated to sup- porting computer science experiments to discuss challenges and solutions in this space. The workshop was held in November 2011 and was collocated with the SC11 conference in Seattle, Washington. Our objec- tives were to share experiences and knowledge related to supporting large-scale experiments conducted on experimental infrastructures, understand user requirements, and discuss methodologies and opportunities created by emerging technologies. This report ties together the workshop presentations and discussion and the consensus that emerged on the state of the field and directions for moving forward.
La possibilité d'effectuer des expériences à grande échelle consistantes, contrôlées, et reproductibles dans tous les domaines de l'informatique liés au parallélisme et au calcul distribué est critique pour le futur et le développement de l'informatique. Le lancement de telles expérimentations est souvent difficile pour les chercheurs, les étudiants et les développeurs et ceci en partie à cause de l'absence de ressources dédiées, l'impossibilité de créer des conditions expérimentales contrôlées et l'évolution des logiciels. La disponibilité, la reproductibilité, et le partage ouvert de plates-formes informatiques sont toujours difficiles à atteindre. Afin de discuter de ces challenges et de partager nos expériences sur les solutions à ces problèmes, le workshop "Experimental Support for Computer Science" a réuni des scientifiques impliqués dans la construction et la maintenance de plates-formes expérimentales dédiées au support pour les expériences informatiques pour discuter des challenges et de leurs solutions. Ce workshop s'est tenu en novembre 2011 au sein de la conférence SC11 à Seattle, Washington. Notre objectif était de partager notre expériences et nos connais- sances autour du support pour les expériences à grande échelle lancées sur des plates-formes d'expérimentation, comprendre les besoins des utilisateurs et discuter des méthodes et des opportunités créées par ces technologies émergentes. Ce rapport présente les contributions liées aux présentations du workshop et aux discussions qui ont eu lieu et le consensus issu sur l'état de l'art et des directions pour les travaux futurs.
Fichier principal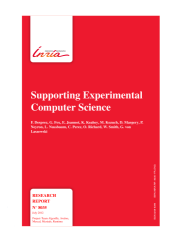 RR-8035.pdf (1.29 Mo)
Télécharger le fichier
Origin : Files produced by the author(s)