Interactive Analysis of Large Distributed Systems with Topology-based Visualization
The performance of parallel and distributed applications is highly dependent on the characteristics of the execution environment. In such environments, the network topology and characteristics directly impact data locality and movements as well as contention, which are key phenomena to understand the behavior of such applications and possibly improve it. Unfortunately few visualization available to the analyst are capable of accounting for such phenomena. In this paper, we propose an interactive topology-based visualization technique based on data aggregation that enables to correlate network characteristics, such as bandwidth and topology, with application performance traces. We claim that such kind of visualization enables to explore and understand non trivial behavior that are impossible to grasp with classical visualization techniques. We also claim that the combination of multi-scale aggregation and dynamic graph layout allows our visualization technique to scale seamlessly to large distributed systems. We support these claims through a detailed analysis of a high performance computing scenario and of a grid computing scenario.
Les performances des applications parallèles et distribuées dépendent fortement des caractéristiques de l'environnement d'exécution. Dans de tels environnements, la topologie du réseau et ses caractéristiques ont un impact direct sur la localité et les mouvements des données ainsi que sur la contention, qui sont des phénomènes clés pour comprendre le comportement de ces applications et éventuellement les améliorer. Malheureusement, peu de visualisation permettent de mettre en évidence ces phénomènes. Dans cet article, nous proposons une technique de visualisation interactive et topologique basée sur l'agrégation de données qui permet de corréler les caractéristiques du réseau, telles que la bande passante et la topologie, avec des traces de performances des applications. Ce type de visualisation permet d'explorer et de comprendre des comportements non triviaux qui sont impossibles à appréhender avec les techniques de visualisation classiques. Nous affirmons également que la combinaison de l'agrégation multi-échelle et l'agencement dynamique du graphe permet à notre technique de visualisation de passer à l'échelle. Nous étayons ces affirmations par l'analyse détaillée d'un scénario de calcul haute performance et d'un scénario de grid computing.
Fichier principal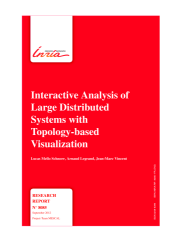 rr-8085.pdf (481.32 Ko)
Télécharger le fichier
Origin : Files produced by the author(s)