Experimental calibration of an active space telescope with flexure joints
In order to reach a micrometer accuracy, a suitable model of a space telescope needs to be developed and validated through calibration. Since high velocity is not required in such an application, the dynamic effects can be neglected and only geometric and/or static calibration has to be considered. Moreover, measurements for calibration are performed in a clean room under controlled pressure, temperature and humidity conditions to minimize the influence of the non-geometric errors. Thus, two possible static inaccuracy sources are identified and modelled: one from the deformation of the mobile platform and the other resulting from the behaviour of the flexure joints. Their influences on the final accuracy of the telescope are compared through results of calibration using an accurate measurement system of photogrammetry. Results show that the flexure joints can be modelled by perfect spherical joints due to the small workspace of the telescope. As for the mobile platform deformation, the developed models allow us to explain how the model errors are directly accounted in the parameter identification during the experimental calibration. This results in different sets of identified parameter values which all enable a good positioning accuracy. Those differences are explained and results of calibration allow a proper choice of the most suitable model for the telescope. Considering this model, a positioning accuracy of some micrometers is finally reached.
Afin d'obtenir une précision micrométrique, un modèle complet d'un télescope spatial doit être développé et validé par un processus d'étalonnage. Pour notre application, la dynamique du télescope est lente et donc seul un étalonnage géométrique et/ou statique peut être considéré. De plus, les mesures pour l'étalonnage sont réalisées en salle blanche dans des conditions de pression, de température et d'humidité régulées, ce qui permet de minimiser l'influence des sources d'erreur non géométriques. Ainsi, deux sources d'erreur statique possibles ont été identifiées et modélisées : la déformation de la plateforme mobile et le comportement des joints flexibles. Leurs influences sur la précision du télescope sont comparées à travers un processus d'étalonnage utilisant un moyen de mesure précis de photogrammétrie. Les résultats montrent que les joints flexibles peuvent être modélisés par des rotules parfaites dans le faible espace de travail du télescope. En ce qui concerne la déformation de la plateforme mobile, les modèles développés permettent d'expliquer comment les erreurs de modèle sont directement prises en compte dans l'identification des paramètres. Ceci conduit à différent jeux de paramètres identifiés qui permettent tous d'obtenir une bonne précision finale de positionnement. Ces différences sont expliquées et les résultats d'étalonnage nous permettent de choisir le modèle le plus approprié pour le télescope. Ce modèle permet d'obtenir une précision finale de quelques micromètres.
Fichier principal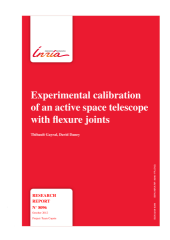 RR-8096v2.pdf (1.11 Mo)
Télécharger le fichier
Origin : Files produced by the author(s)