Surface Reconstruction through Point Set Structuring
We present a method for reconstructing surfaces from point sets. The main novelty lies into a structure-preserving approach where the input point set is first consolidated by structuring and resampling the planar components, before reconstructing the surface from both the consolidated components and the unstructured points. The final surface is obtained through solving a graph-cut problem formulated on the 3D Delaunay triangulation of the structured point set where the tetrahedra are labeled as inside or outside cells. Structuring facilitates the surface reconstruction as the point set is substantially reduced and the points are enriched with structural meaning related to adjacency between primitives. Our approach departs from the common dichotomy between smooth/piecewise-smooth and primitive-based representations by gracefully combining canonical parts from detected primitives and free-form parts of the inferred shape. Our experiments on a variety of inputs illustrate the potential of our approach in terms of robustness, flexibility and efficiency.
Nous proposons une méthode pour reconstruire des surfaces à partir de nuages de points 3D. La principale originalité réside dans la mise en place d'une approche préservant la structure, dans laquelle le nuage de points est d'abord consolidé et structuré en composants planaires, avant de reconstruire la surface à partir de ces éléments consolidés et des points non structurés. La surface est obtenue en résolvant un problème de coupes de graphes formulé sur la triangulation de Delaunay 3D de l'ensemble des points structurés où les tétraèdres sont au préalable étiquetés intérieurs ou extérieurs de la surface.
Fichier principal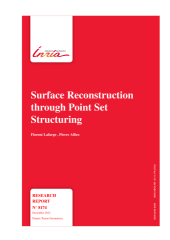 RR-8174.pdf (6.8 Mo)
Télécharger le fichier
Origin : Files produced by the author(s)