Energy-based routing metric for RPL
Saving power while ensuring acceptable service levels is a major concern in wireless sensor networks, since nodes are usually deployed and not replaced in case of breakdown. Several efforts have recently led to the standardization of a routing protocol for low power and lossy network. The standard provides various metrics, which can be used to guide the routing. Most protocol implementations use expected transmission count as the routing metric, thus focus on the link reliability. To our knowledge, there is no protocol implementation that uses the nodes remaining energy for next hop selection. This document discusses about the usage of the latter as the routing metric for RPL, the new standard for routing for Low power and Lossy Network (LLN). We design an objective function for that metric and compared experiments result with the most popular expected transmission count scheme.
La conservation énergétique, tout en assurant un niveau de service convenable est un soucis majeur dans les réseaux de capteurs sans fil, du fait que les nœuds sont généralement déployés et ne sont pas remplacés en cas de défaillance. Plusieurs efforts ont récemment conduit à la standardisation d'un protocole de routage pour les réseaux basses consommation avec perte. Le standard prévoit plusieurs critères pouvant être utilisés comme métrique de routage. La plupart des implémentations du protocole fait usage du taux de transmission avec succès (ETX) comme métrique, mettant ainsi l'accent sur la fiabilité des liens. A notre connaissance, il n'existe pas d'implémentation du standard qui prennent en compte l'énergie résiduelle des nœuds dans le processus de sélection du prochain saut. Dans ce rapport nous présentons l'utilisation de cette dernière comme métrique de routage pour le protocole RPL, nouveau standard de routage pour les réseaux de capteurs sans fil. Nous concevons une fonction objective pour cette métrique et comparons les résultats des expériences réalisées avec l'ETX.
Fichier principal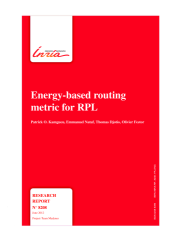 RR-8208.pdf (578.85 Ko)
Télécharger le fichier
Origin : Files produced by the author(s)