Comparison on OpenStack and OpenNebula performance to improve multi-Cloud architecture on cosmological simulation use case
With the increasing numbers of Cloud Service Providers and the migration of the Grids to the Cloud paradigm, it is necessary to be able to leverage these new resources. Moreover, a large class of High Performance Computing (HPC) applications can run these resources without (or with minor) modifications. But using these resources come with the cost of being able to interact with these new resource providers. In this paper we introduce the design of a HPC middleware that is able to use resources coming from an environment that compose of multiple Clouds as well as classical \hpc resources. Using the \diet middleware, we are able to deploy a large-scale, distributed HPC platform that spans across a large pool of resources aggregated from different providers. Furthermore, we hide to the end users the difficulty and complexity of selecting and using these new resources even when new Cloud Service Providers are added to the pool. Finally, we validate the architecture concept through cosmological simulation RAMSES. Thus we give a comparison of 2 well-known Cloud Computing Software: OpenStack and OpenNebula.
Avec l'augmentation du nombre de fournisseurs de service Cloud et la migration des applications depuis les grilles de calcul vers le Cloud, il est nécessaire de pouvoir tirer parti de ces nouvelles ressources. De plus, une large classe des applications de calcul haute performance peuvent s'exécuter sur ces ressources sans modifications (ou avec des modifications mineures). Mais utiliser ces ressources vient avec le coût d'être capable d'intéragir avec des nouveaux fournisseurs de ressources. Dans ce papier, nous introduisons la conception d'un nouveau intergiciel HPC qui permet d'utiliser les ressources qui proviennent d'un environement composé de plusieurs Clouds comme des ressources classiques. En utilisant l'intergiciel \diet, nous sommes capable de déployer une plateforme HPC distribuée et large échelle qui s'étend sur un large ensemble de ressources aggrégées entre plusieurs fournisseurs Cloud. De plus, nous cachons à l'utilisateur final la difficulté et la complexité de sélectionner et d'utiliser ces nouvelles ressources quand un nouveau fournisseur de service Cloud est ajouté dans l'ensemble. Finalement, nous validons notre concept d'architecture via une application de simulation cosmologique RAMSES. Et nous fournissons une comparaison entre 2 intergiciels de Cloud: OpenStack et OpenNebula.
Fichier principal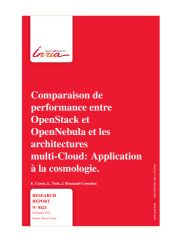 RR-8421.pdf (993.65 Ko)
Télécharger le fichier
Origin : Files produced by the author(s)