Image Transfer and Storage Cost Aware Brokering Strat. for Multiple Clouds
Nowadays, Clouds are used for hosting a large range of services. But between different Cloud Service Providers, the pricing model and the price of individual resources are very different. Furthermore hosting a service in one Cloud is the major cause of service outage. To increase resiliency and minimize the monetary cost of running a service, it becomes mandatory to span it between different Clouds. Moreover, due to dynamicity of both the service and Clouds, it could be required to migrate a service at run time. Accordingly, this ability must be integrated into the multi-Cloud resource manager, i.e. the Cloud broker. But, when migrating a VM to a new Cloud Service Provider, the VM disk image must be migrated too. Accordingly, data storage and transfer must be taken into account when choosing if and where an application will be migrated. In this paper, we extend a cost-optimization algorithm to take into account storage costs to approximate the optimal placement of a service. The data storage management consists in taking two decisions: where to upload an image, and keep it on-line during the experiment lifetime or delete it when unused. Although the default approach can be to upload an image on demand and delete it when it is no more used, we demonstrate that by adopting other policies the user can achieve better economical results.
De nos jours, les Clouds sont utilisés pour héberger un grand ensemble de services. Mais entre les différents fournisseurs de service Cloud, les modéles de prix et le prix de chaque ressource sont très différents. De plus, héberger un service dans un unique Cloud est une des causes principales d'interruption de service. Pour améliorer la résistance et diminuer le coût monétaire d'une application, il devient obligatoire de la distribuer dans plusieurs Clouds. En outre, à cause de la dynamicité de l'application et des Clouds, il peut être nécessaire de migrer l'application pendant l'exécution. Par conséquence, cette capacité doit être intégrée dans le gestionnaire de ressources multi-Cloud i.e. le Cloud Broker. Mais, quand une VM migre vers un nouveau fournisseur de service Cloud, l'image disque de la VM doit être migrée également. Par conséquence, le stockage et transfert de donnée doivent être pris en compte quand il est choisi si une application doit migrer et où. Dans ce papier, nous étendons un algorithme d'optimisation de coût pour prendre en compte le coût du stockage afin d'approximer le placement optimal d'une application. La gestion du stockage de donnée consiste à devoir prendre 2 décisions: où l'image doit être envoyée et doit-elle être conservée ou supprimée quand elle n'est plus utilisée. Même si l'approche par défaut peut être d'envoyer l'image à la demande et la supprimer quand elle n'est plus utilisée, nous démontrons qu'en adoptant d'autres politiques l'utilisateur peut réussir à atteindre de meilleurs résultats économiques.
Fichier principal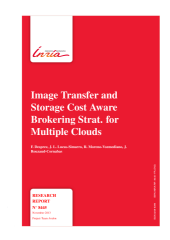 RR-8445.pdf (659.15 Ko)
Télécharger le fichier
Origin : Files produced by the author(s)