Rendre tangible des normes de collaboration par un système multi-agent normatif
We present a preliminary study for the design of an agent­based participatory simulation system in the field of crisis management, in the case of distributed tangible interaction. Our focus is on the protocols that govern human intervention. The role of the system is to simulate the crisis situations, to model the corresponding protocols, to offer to the human actors a realistic collaboration framework and to highlight potential inconsistencies and conflicts detected in the course of the individual and collective activity. We present the first designing steps of the multi­agent platform, which draws on the JaCaMo framework, together with an application example to simple scenarios.
Nous présentons une étude préliminaire pour la concep­tion d'un système multi­agent de simulation participative dans le domaine de la gestion de crises. Le contexte est celui d'une interaction via des tables tangibles distri­buées. Notre point focal est celui des règles et protocoles qui régissent les interventions des acteurs humains. Le rôle du système est de simuler les situations de crise, de modéliser les protocoles et règles associés, d'offrir aux acteurs humains un environnement réaliste de collabora­tion et de mettre en lumière des incohérences et conflits détectés au niveau de l'activité individuelle ou collective. Nous présentons les premières étapes de conception du système s'appuyant sur la plateforme multi­agent JaCa­Mo, et un exemple d'application à des scénarios simples.
Fichier principal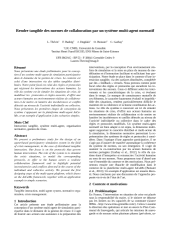 rjcia2014_submission_24.pdf (414.05 Ko)
Télécharger le fichier
Origin : Files produced by the author(s)