numap: A Portable Library For Low Level Memory Profiling
The memory subsystem of modern multicore architectures is becoming more and more complex with the increasing number of cores integrated in a single computer. This complexity leads to profiling needs to let software developers understand how programs use the memory subsystem. Modern processors come with hardware profiling features to help building tools for these profiling needs. Regarding memory profiling, many processors provide means to monitor memory traffic and to sample read and write memory accesses. Unfortunately, these hardware profiling mechanisms are often very complex to use and are specific to each micro-architecture. In this report, we present numap, a library dedicated to the profiling of the memory subsytem of modern multicore architectures. numap is portable across many micro-architectures and comes with a clean application programming interface allowing to easily build profiling tools on top of it.
Pour suivre l'augmentation du nombre de coeurs intégrés au sein d'une même machine, le sous-système mémoire des architectures multi-coeurs devient de plus en plus complexe. Cette complexité induit des besoins en terme de profilage, afin de permettre aux développeurs une meilleure compréhesion de l'usage que font leur programme du sous-système mémoire. Les processeurs modernes intègrent des mécanismes qui permettent de construire des outils logiciels répondant à ces besoins. Concernant le profilage mémoire, de nombreux processeurs fournissent des moyens de suivre le traffic mémoire et d'échantillonner les accès en lecture et en écriture vers la mémoire. Néanmoins, ces mécanismes sont très complexes à utiliser et sont spécifiques à chaque micro-architecture. Dans ce rapport, nous présentons numap, une librairie dédiée au profilage du sous-sytème mémoire des architectures multi-coeurs modernes. numap est portable sur de nombreuses micro-architectures et fournit une interface simple et claire permetant de construire des outils de profilage.
Fichier principal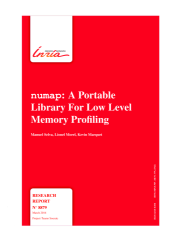 RR-8879.pdf (531.76 Ko)
Télécharger le fichier
Origin : Files produced by the author(s)