Détection automatique des instants de fermeture glottale dans les voix pathologiques
Le traitement de la parole est une thématique importante des sciences de l'ingénieur alliant traitement du signal et connaissances médicales. La parole est utilisée comme vecteur d'informations pour de nombreuses applications industrielles, comme la reconnaissance de la parole, les interfaces homme machine et bien d'autres applications. L'étude de la parole pourrait permettre le diagnostic différentiel de maladies ayant comme symptôme des troubles de la voix. Certaines d'entre elles sont dues à un dysfonctionnement des cordes vocales. Des méthodes basées sur la parole ont été développées ces dernières années pour identifier les instants ou les cordes vocales entrent en contact, ces instants sont appelés GCIs (Glottal Closure Instant). La vérité terrain est obtenue par l'intermédiaire de l'electroglottographie (EGG). L'EGG fournit un signal, image du mouvement des cordes vocales. De ce signal, plusieurs méthodes permettent d'extraire automatiquement les GCIs. Ces méthodes donnent des résultats différents et parfois faux pour des voix non-pathologiques, et ne sont à priori pas adaptées aux voix pathologiques. On peut donc difficilement obtenir une vérité terrain fiable. La vérité terrain est pourtant indispensable pour pouvoir développer et étudier des méthodes de détection des GCIs. Ceci a donc constitué le principal axe de travail durant le stage.
Speech processing is an important thematic of the sciences of the engineer allying signal processing and medical knowledge. Speech is used as an information vector for many industrial applications, such as speech recognition, man-machine interfaces and many other applications. The study of the speech could allow the diagnosis of a disease. Many diseases has voice disorders as symptoms. Some of them are due to a malfunction of the vocal cords. Speech-based methods have been developed in recent years to identify instants when vocal cords come into contact, these instants are called GCIs (Glottal Closure Instant). The ground truth is obtained via electroglottography (EGG). The EGG provides an image signal of the movement of the vocal cords. From this signal several methods allow us to extract the GCIs automatically. These methods give different and sometimes false results for non-pathological voices and is probably not suitable for pathological voices. It is therefore difficult to obtain a reliable ground truth. The ground truth is nevertheless essential to be able to develop and study methods of detection of GCIs. This is exactly the main subject I had to work on during my internship.
Fichier principal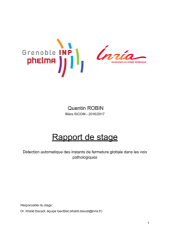 Rapport-Robin.pdf (2.39 Mo)
Télécharger le fichier
Origin : Files produced by the author(s)