Cryptographie post-quantique : étude du décodage des codes QC-MDPC
In this work, I look at a variant of the McEliece cryptosystem aiming at reducing the key size. This scheme is based on correcting codes and it relies on a simple probabilistic decoding algorithm. However the failures of the decoding algorithm can be used to retrieve the secrete key. During my internship I tried to reduce that decoding failure rate by introducing as little complexity to the algorithm as possible. Here, I present a few variants of the algorithm and look at how they perform on simulations. Finally I try to find models on the evolution of certain quantities during the algorithm. The knowledge of these evolutions could be used to improve the variants of the algorithm.
Dans ce document, je m'intéresse à une variante du cryptosystème de McEliece visant à réduire la taille des clés. Ce système se base sur la théorie des codes correcteurs et utilise un algorithme de décodage itératif probabiliste simple. Cependant, les échecs au décodage peuvent être utilisés pour récupérer la clé secrète. Pendant mon stage, j'ai essayé de réduire ce taux d'échec au décodage en introduisant aussi peu de compléxité que possible dans l'algorithme. Ici, je présente quelques variantes de cet algorithme et je regarde leurs comportements sur des simulations. Enfin, j'essaie de trouve des modèles sur l'évolution de certaines quantités intervenant dans l'algorithme. La connaissance de ces évolutions pourrait être utilisée pour améliorer les variantes de l'algorithme.
Fichier principal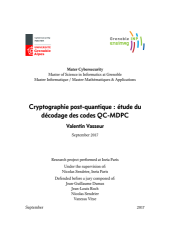 Vasseur-QC-MDPC.pdf (404.53 Ko)
Télécharger le fichier
Origin : Files produced by the author(s)