Documents Associated With Scientific Events
Year :
Fichier principal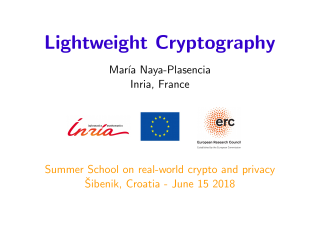 Lightweight cryptography.pdf (2.8 Mo)
Télécharger le fichier
Origin : Files produced by the author(s)
Dates and versions
Identifiers
HAL Id :

hal-01953789 , version 1
Cite
María Naya-Plasencia. Lightweight Cryptography.
Summer School on real-world crypto and privacy
, Jun 2018, Sibenik, Croatia.
⟨hal-01953789⟩