DIET: A Scalable Toolbox to Build Network Enabled Servers on the Grid
Among existing grid middleware approaches, one simple, powerful, and flexible approach consists of using servers available in different administrative domains through the classical client-server or Remote Procedure Call (RPC) paradigm. Network Enabled Servers implement this model also called GridRPC. Clients submit computation requests to a scheduler whose goal is to find a server available on the grid. The aim of this paper is to give an overview of a middleware developed in the GRAAL team called DIET. DIET (Distributed Interactive Engineering Toolbox) is a hierarchical set of components used for the development of applications based on computational servers on the grid.
Parmi les intergiciels de grilles existants, une approche simple, flexible et performante consiste à utiliser des serveurs disponibles dans des domaines administratifs différents à travers le paradigme classique de l'appel de procédure à distance (RPC). Les environnements de ce type, connus sous le terme de Network Enabled Servers, implémentent ce modèle appelé GridRPC. Des clients soumettent des requêtes de calcul à un ordonnanceur dont le but consiste àtrouver un serveur disponible sur la grille.Le but de cet article est de donner un tour d'horizon d'un intergiciel développé dans le projet GRAAL appelé DIET 2. DIET (Distributed Interactive Engineering Toolbox) est un ensemble hiérarchique de composants utilisés pour le développement d'applications basées sur des serveurs de calcul sur la grille.
Fichier principal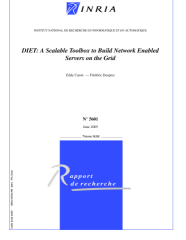 RR-5601.pdf (990.74 Ko)
Télécharger le fichier

RR2005-23.pdf (1.24 Mo)
Télécharger le fichier