Use of A Network Enabled Server System for a Sparse Linear Algebra Grid Application
Solving systems of linear equations is one of the key operations in linear algebra. Many different algorithms are available in that purpose. These algorithms require a very accurate tuning to minimise runtime and memory consumption. The TLSE project provides, on one hand, a scenario-driven expert site to help users choose the right algorithm according to their problem and tune accurately this algorithm, and, on the other hand, a test-bed for experts in order to compare algorithms and define scenarios for the expert site. Both features require to run the available solvers a large number of times with many different values for the control parameters (and maybe with many different architectures). Currently, only the grid can provide enough computing power for this kind of application. The DIET middleware is the GRID backbone for TLSE. It manages the solver services and their scheduling in a scalable way.
La résolution de systèmes linéaires creux est une opération clé en algèbre linéaire. Beaucoup d'algorithmes sont utilisés pour cela, qui dépendent de nombreux paramètres, afin d'offrir une robustesse, une performance et une consommation mémoire optimales. Le projet GRID-TLSE fournit d'une part, un site d'expertise basé sur l'utilisation de scénarios pour aider les utilisateurs à choisir l'algorithme qui convient le mieux à leur problème ainsi que les paramètres associés; et d'autre part, un environnement pour les experts du domaine leur permettant de comparer efficacement des algorithmes et de définir dynamiquement de nouveaux scénarios d'utilisation. Ces fonctionnalités nécessitent de pouvoir exécuter les logiciels de résolution disponibles un grand nombre de fois,avec beaucoup de valeurs différentes des paramètres de contrôle (et éventuellement sur plusieurs architectures de machines). Actuellement, seule la grille peut fournir la puissance de calcul pour ce type d'applications. L'intergiciel DIETest utilisé pour gérer la grille, les différents services, et leur ordonnancement efficace.
Fichier principal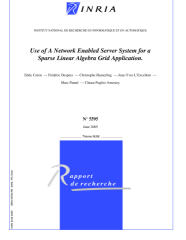 RR-5595.pdf (466.36 Ko)
Télécharger le fichier

LIP-RR2005-30.pdf (536.09 Ko)
Télécharger le fichier