Second Order Function Approximation with a Single Small Multiplication
This paper presents a new scheme for the hardware evaluation of elementary functions, based on a piecewise second order minimax approximation. The novelty is that this evaluation requires only one small rectangular multiplication. Therefore the resulting architecture combines a small table size, thanks to second-order evaluation, with a short critical path: Consisting of one table lookup, the rectangular multiplication, and one addition, the critical path is shorter than that of a plain first-order evaluation. Synthesis results for several functions show that this method outperforms all the previously published methods in both area and speed for precisions ranging from 12 to 24 bits.
Cet article présente une nouvelle technique pour l' évaluation en matériel de fonctions élémentaires à partir d'une approximation minimax au second ordre. Son originalité est de ne faire intervenir qu'une petite multiplication rectangulaire. L'architecture résultante combine ainsi la petite taille d'une approximation au second ordre et la vitesse d'une approximation au premier ordre, puisque le chemin critique se compose d'une lecture de table, de la petite multiplication et d'une addition. La synthèse sur FPGA d'opérateurs pour différentes fonctions et différentes précisions montre que cette méthode est plus performante, tant en surface qu'en délai, que toutes les méthodes concurrentes précédemment publiées pour des précisions allant de 12 `a24bits.
Fichier principal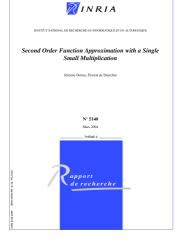 RR-5140.pdf (240.41 Ko)
Télécharger le fichier

RR2004-13.pdf (311 Ko)
Télécharger le fichier