Multipartite Tables in JBits for the Evaluation of Functions on FPGA
This paper presents a core generator for arbitrary numeric functions on Xilinx Virtex FPGAs. The cores use the state-of-the-art multipartite table method, which allows input and output precisions in the range of 8 to 24 bits on current Virtex chips. The implementation uses the JBits API to embed elaborate optimisation techniques in the description of the hardware.
Cet article présente un générateur de coeurs de circuits pour le calcul de fonctions numériques arbitraires sur FPGA Xilinx Virtex. Les coeurs obtenus utilisent la méthode multipartite, qui permet des précisions d'entrée et de sortie de 8 24 bits sur les circuits Virtex actuels. L'implémentation profite de l'API JBits pour intégrer, dans le code décrivant les coeurs, des techniques d'optimisation sophisitiquées.
Fichier principal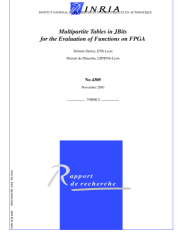 RR-4305.pdf (276.01 Ko)
Télécharger le fichier

RR2001-44.pdf (398.62 Ko)
Télécharger le fichier