Serveurs vidéo : concepts de base et prototypes
This report presents a survey of techniques used in the conception of a video server. It also includes a survey of prototypes developped in this area. Based on a fonctionnal model of video server, the different components of a video server are described : the storage system, the memory management, the client interface, the ressources management, etc. The main techniques that implement these components are explained.
Ce document présente un état de l'art des techniques utilisées dans la conception de serveurs vidéo ainsi qu'un panorama des différents prototypes développés dans ce domaine. A partir d'un modéle fonctionnel de serveur vidéo, les différents composants d'un serveur vidéo sont décrits : le système de stockage, la gestion mémoire, l'interface avec le client, la gestion des ressources, etc. Les principales techniques implémentant ces composants sont expliquées. L'ensemble des références aux prototypes et aux articles cités est accessible à l'adresse: http://www.ens-lyon.fr/~abonhomm/video/survey.html.
Fichier principal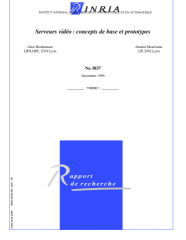 RR-3837.pdf (618.81 Ko)
Télécharger le fichier

RR1999-56.pdf (672.87 Ko)
Télécharger le fichier