Towards Portable Hierarchical Placement for FPGAs
Field Programmable Gate Arrays (FPGAs) are usually programmed using languages and methods inherited from the domain of VLSI synthesis. These methods, however, have not always been adapted to the new possibilities opened by FPGAs, nor to the new constraints they impose on a design. This paper addresses in particular the issue of laying out the various components of an architecture on an FPGA. The problem is to embed placement information in FPGA-oriented hardware description languages, in a way that is both expressive enough to be useful, and abstract enough to be portable from one FPGA architecture to the other. A generic placement framework is defined to address this problem, and two prototype implementations of this framework are presented, for Xilinx 6200 and Xilinx 4000 devices, on the example of a bit-serial complex multiplier.
Les réseaux de cellules reconfigurables (FPGAs) sont programmés au moyen de langages et de méthodes héritées de la synthèse VLSI, mais ces méthodes ne sont pas toujours adaptées aux nouvelles possibilités offertes par les FPGAs, ni aux nouvelles contraintes qu'ils imposent. Cet article s'intéresse en particulier aux questions de placement des différents composants d'un circuit dans le FPGA. Le problème est l'expression de contraintes de placement dans les langages de description de matériel pour ces architectures, et ce d'une manière suffisamment expressive pour être utile, mais suffisamment abstraites pour être portable d'une architecture à l'autre. Un cadre formel est défini pour répondre à cette attente, et deux prototypes d'implémentation de ce cadre sont présentées sur les architectures très différentes des circuits Xilinx 4000 et 6200, avec l'exemple d'un multiplieur bit-série complexe.
Fichier principal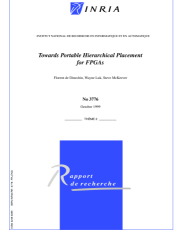 RR-3776.pdf (672.99 Ko)
Télécharger le fichier

RR1999-50.pdf (513.8 Ko)
Télécharger le fichier