Navier-Stokes ALE free surface flow with generalized Navier slip conditions. Droplet impact and attempt using Comsol Multiphysics 3.2.
Droplet impact onto a solid surface is modeled and numerically simulated using an ALE formulation of the Navier-Stokes free surface equations. The triple line dynamics aspect is modeled implicitely through the Shikhmurzaev theory. Those equations involve a generalized Navier slip boundary conditions with the variation of the surface tension near the triple line (thus a local Marangoni effect). Comsol Multiphysics 3.2 potentialities are investigated to implement the different components of this ALE free surface problem. Finally, some numerical results of the spreading phase are obtained using the algorithm elaborated and implemented into Micralef, a home-developed software
Nous nous intéressons à la modélisation numérique d'une gouttelette impactant un solide. Les équations sont celles de Navier-Stokes surface libre en formulation ALE. La dynamique de la ligne triple est implicitement modélisée par les équations de Shikhmurzaev. Ces équations introduisent une condition de glissement de Navier généralisée, avec un gradient de tension de surface (effet Marangoni localisé). Les potentialités du logiciel Comsol Multiphysics 3.2 pour résoudre ce problème sont étudiées. Finalement, nous obtenons des résultats basés sur les algorithmes établis mais implémentés au sein de Micralef, un code de calcul spécialement développé pour cette étude.
Fichier principal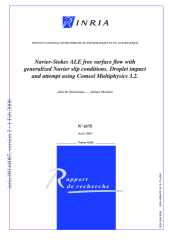 RR-6175.pdf (528.02 Ko)
Télécharger le fichier

main.pdf (528.55 Ko)
Télécharger le fichier
Origin : Files produced by the author(s)
Origin : Files produced by the author(s)