Automatic Pen-and-Ink Illustration of Tone, Gloss, And Texture
We present a method for automatically depicting material appearance using pen and ink. Starting from a classical computer graphics representation -- color map, normal map, illumination, etc. -- we introduce an abstraction layer to bridge between this unsuited input and generic control parameters of pen-and-ink systems, such as primitive shape, size and density. This layer is made of parameters, belonging to tone, gloss and texture categories, that are automatically extracted from the input data. We then demonstrate our approach by presenting how this abstraction layer can easily be used to drive an example pen-and-ink rendering system. We show results on various materials, and validate our choices in a user study.
Nous présentons une méthode pour représenter automatiquement des matériaux au dessin au trait. Partant d'une représentation conventionnelle du mat'eriau (texture, normal map, fonction de reflectance), nous introduisons une représentation abstraite intermédiaire qui nous permet de faire l'interface avec les paramètres de contrôle d'un moteur de rendu expressif au trait. Pour cela, nous extrayons automatiquement des caractéristiques haut niveau des matériaux telles que la couleur, la brillance, et la texture. Nous démontrons l'applicabilité de cette représentation en l'utilisant pour piloter un moteur de rendu expressif basé sur le dessin au trait. Nous montrons des exemples variés de matériaux, et validons notre approche par une étude utilisateur.
Fichier principal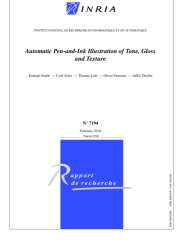 npar_NPR_Materials_INRIA_TechR.pdf (2.78 Mo)
Télécharger le fichier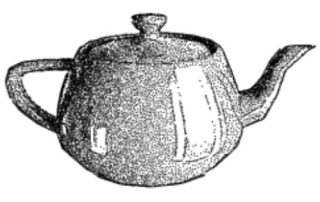 screenshot-area-2017-05-17-145819.jpg (24.15 Ko)
Télécharger le fichier
Origin : Files produced by the author(s)
Format : Figure, Image
Origin : Files produced by the author(s)