Analyzing Software Transactional Memory Applications by Tracing Transactions
Transactional Memory (TM) is a new programming paradigm that offers an alternative to traditional lock-based concurrency mechanisms. It provides a higher-level programming interface and promises to greatly simplify the development of correct concurrent applications on multicore architectures. However, simplicity often comes with an important performance deterioration and, given the variety of TM implementations, it is still a challenge to know what kind of applications can really take advantage of TM. In this work, we aim at investigating these performance issues and presenting a generic approach for tracing transactions. We show that the collected information can be helpful in order to improve the performance of TM applications.
La Mémoire Transactionnelle (MT) est un nouveau paradigme de programmation concurrente qui vise à être une alternative aux mécanismes traditionnels de synchronisation basés sur des verrous. C'est une approche de plus haut niveau qui permet de simplifier le développement des applications concurrentes sur des architectures multicoeurs. Toutefois, ce haut niveau d'abstraction peut avoir un impact négatif sur la performance et les développeurs de STM font des choix d'impémentation qui ont également un impact important sur la performance. La conséquence est qu'il est difficile de prédire les performances des applications en utilisant la MT. Dans ce travail, nous visons à analyser ces problèmes de performance et nous proposons une approche générique et portable de traçage des transactions. Nous montrons que les informations collectées peuvent être très utiles pour comprendre et améliorer la performance des applications utilisant la MT.
Fichier principal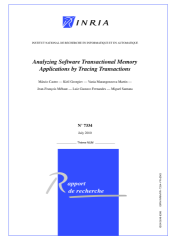 RR-7334.pdf (528.85 Ko)
Télécharger le fichier
Origin : Files produced by the author(s)