Towards XtreemOS in the Clouds – Automatic Deployment of XtreemOS Resources in a Nimbus Cloud
Grid computing is a well-known and mature model of distributed computing based on the idea of collaborative sharing of resources between multiple users. Grids are generally used for executing large and long running applications. These applications are set up and configured to work on specific kinds of hardware and software. Compared to grid computing, cloud computing is an emerging model based on virtualization technologies, which provides on-demand resource leases as transparent services to the user. Distributed applications can easily run inside clouds, in already configured hardware and software environments. Whereas grids allow users to run very large and time-consuming applications on specific and dedicated hardware, cloud computing allows users to run applications in order to get fast results with a minimum of hardware and software configuration. Our vision is that, from a resource point of view, cloud computing is more dynamic and flexible than grid computing. We study and implement mechanisms in order to provide more dynamicity in grids by automatically extending them with cloud resources. Our work is based on XtreemOS, an open source, Linux-based grid operating system and Nimbus, an open source cloud computing framework. In this document, we present the design and implementation of a system using a Nimbus cloud in order to automatically provide on-demand resource nodes for an XtreemOS grid.
La grille informatique est un modèle d'informatique distribuée répandu et mature, fondé sur le partage collectif des ressources entre multiples utilisateurs. Les grilles sont généralement utilisées pour exécuter des applications de taille importante sur une longue durée. Ces applications sont installées et configurées afin de fonctionner sur une couche matérielle et logicielle précise. Comparé à la grille informatique, le cloud computing est un modèle émergeant fondé sur les technologies de virtualisation qui offre aux utilisateurs la possibilité de réserver des ressources, à la demande, à travers des services transparents. Les applications distribuées peuvent facilement s'exécuter dans les clouds, en s'appuyant sur des environnements matériels et logiciels préconfigurés. Alors que les grilles informatiques permettent aux utilisateurs d'exécuter de larges applications sur une longue durée en utilisant du matériel spécifique et dédié, le cloud computing permet aux utilisateurs d'exécuter des applications pour obtenir des résultats rapidement avec un minimum de configuration logicielle et matérielle. Notre vision est que, d'un point de vue des ressources, le cloud computing est plus dynamique et flexible que la grille informatique. Nous étudions et mettons en \oe uvre des mécanismes afin d'offrir plus de dynamicité aux grilles, en les étendant automatiquement avec des ressources des clouds. Notre travail se centre sur XtreemOS, un système d'exploitation libre pour grille fondé sur Linux, et Nimbus, un système libre de cloud computing. Dans ce document, nous décrivons l'architecture et la mise en \oe uvre d'un système utilisant un cloud Nimbus de façon automatique afin d'offrir des ressources à la demande à une grille XtreemOS.
Fichier principal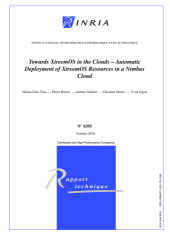 RT-0395.pdf (645.75 Ko)
Télécharger le fichier
Origin : Files produced by the author(s)