On Distributing the Runtime of the Chemical Programming Model
Internet is nowadays a global computing platform comprising myriads of autonomous services which require targeted composition and coordination. Nature-inspired, and more specifically chemical programming models, in which a computation is seen as a set of reactions between molecules interacting freely in a solution, has emerged as a promising alternative for programming such platforms. While much works recently highlighted the versatility and expressiveness of such a model, its distributed execution is still a widely open problem. With this paper, we start the study of a distributed execution environment for chemical programs. We propose a framework based on a peer-to-peer network on top of which molecules and reactions are distributed. We exhibit some optimality properties of our algorithms. A real-world prototype has been developed, and deployed over the nation-wide Grid'5000 testbed. These experiments confirm the viability of our proposal.
Internet est devenu une plate-forme de calcul globale dans laquelle une myriade de services autonomes sont composés dynamiquement en fonction des besoins de millions d'utilisateurs simultanés. Face à ce nouveau changement des plates-formes de calcul, il est nécessaire de proposer de nouveaux modèles de programmation. Les modèles de programmation inspirés par la nature, et en particulier le modèle chimique montre des propriétés intéressantes pour modéliser de telles interactions. Dans ce modèle, les services (encapsulant par exemples des composants logiciels, des données, ou des capteurs) sont vus comme des molécules dont les interactions sont modélisés par des règles de réactions. Alors que beaucoup de travaux récents autour de ce paradigme ont mis en évidence l'intérêt de ce modèle, son exécution distribuée reste un problème largement ouvert. Dans ce rapport, nous proposons et implémentons un modéle d'exécution pour ce modèle. Nous nous appuyons sur une table de hachage distribuée à travers laquelle les molécules sont distribués, et au-dessus duquel un arbre d'exécution est construit. Nous avons développé un prototype de notre approche et l'avons expérimenté sur la plate-forme Grid'5000, fournissant une preuve de concept et de sa viabilité à large échelle.
Fichier principal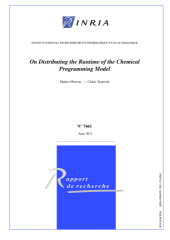 RR-7661.pdf (1.02 Mo)
Télécharger le fichier
Origin : Files produced by the author(s)