On the Coloring of Grid Wireless Sensor Networks: the Vector-Based Coloring Method
Graph coloring is used in wireless networks to optimize network resources: bandwidth and energy. Nodes access the medium according to their color. It is the responsibility of the coloring algorithm to ensure that interfering nodes do not have the same color. In this research report, we focus on wireless sensor networks with grid topologies. How does a coloring algorithm take advantage of the regularity of grid topology to provide an optimal periodic coloring, that is a coloring with the minimum number of colors? We propose the Vector-Based Coloring Method, denoted VCM, a new method that is able to provide an optimal periodic coloring for any radio transmission range and for any h-hop coloring, h>=1. This method consists in determining at which grid nodes a color can be reproduced without creating interferences between these nodes while minimizing the number of colors used. We compare the number of colors provided by VCM with the number of colors obtained by a distributed coloring algorithm with line and column priority assignments. We also provide bounds on the number of colors of optimal general colorings of the infinite grid, and show that periodic colorings (and thus VCM) are asymptotically optimal. Finally, we discuss the applicability of this method to a real wireless network.
Le coloriage des graphes est utilisé dans les réseaux sans fil afin d'optimiser les ressources du réseau: la bande passante et l'énergie. Les noeuds du réseau accèdent au médium en fonction de leur couleur. L'algorithme de coloriage a la charge d'assurer que les noeuds intereférents n'aient pas la même couleur. Dans ce rapport de recherche, nous nous concentrons sur les réseaux de capteurs sans fil ayant une topologie en grille. Comment un algorithme de coloriage peut profiter de la régularité de cette topologie pour réaliser un coloriage périodique optimal, c'est à dire un coloriage avec le nombre minimal de couleurs? Nous proposons la Méthode des Vecteurs, notée VCM, une nouvelle méthode qui est capable de fournir un coloriage à h sauts, périodique et optimal quelque soit h >= 1 et quelque soit la portée radio. Cette méthode consiste à déterminer quels noeuds de la grille peuvent utiliser la même couleur sans créer des interférences entre ces noeuds tout en minimisant le nombre de couleurs utilisées. Nous comparons le nombre de couleurs utilisées par la Méthode des Vecteurs, à celui obtenu par un algorithme distribué qui affecte les couleurs selon la priorité donnée par la ligne ou la colonne. Nous fournissons aussi des bornes sur le nombre de couleurs des coloriages généraux optimaux de la grille, et prouvons que les coloriages périodiques (et donc VCM) sont asymptotiquement optimaux. Enfin, nous discutons l'applicabilité de cette méthode à un réseau sans fil réel.
Fichier principal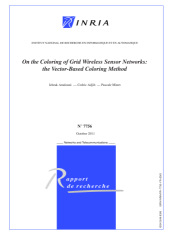 RR-7756.pdf (535.8 Ko)
Télécharger le fichier
Origin : Files produced by the author(s)