L'homme augmenté : Épistémologie et bio-ingénierie de l'humain machine
The studies described in this document adress the topic of the so-called "augmented human". Its main issues are exploring human machine epistemology and developing a framework in order to describe or model human machine systems functionning for the purpose of its engineering design. Classical cognitive epistemology as applied to human-machine systems design draw analogies between human and a set of physical or logical properties or algorithms, with the view to reduce human-machine interactions to a computational outcome and to an ergonomic interface design issue. Integrativist epistemology, and my scientific approach takes place there, should be deduced from ethology, biology and theoretical integrative physiology. My main outcome of my research concern maieutic approach for cognitive and sensori-motor experise modeling in developing knowledge based system to help in diagnosis and technical gesture, to design virtual environment in order to support action and their assement method using on behavioral markers and gesture analysis itself, as well as theoretical concepts and principles of an intégrative theory applied to medical, aerospace and defense human machine modeling. The human machine concept has to be defined as a whole and as a result of the combination of both the hierarchical structural organization and the dynamical coupling of two classes of systems, which are of different nature : human as a biological and anthropological system, and a machine as a technical, physical, logical or cyber-physical system. Safe design and correctness by construction of assistance or aid systems for human activity, from diagnostic aid to action aid, are therefore at the heart of my work. The aim of my interdisciplinariy research project is validating both human machine theoretical principles and integrative co-modeling methods required for bio-compatible, bio-integrable and ethical artificial systems bio-engineering design for "augmented human".
Les travaux décrits dans ce document ont pour thème l'homme augmenté. Les enjeux en sont d'une part la recherche d'une épistémologie de l'humain machine et d'autre part le développement d'un cadre de description ou de modélisation des systèmes humain machine pour son ingénierie de conception. Appliquée à la conception des systèmes homme machine, l'épistémologie cognitiviste réduit classiquement l'humain (par analogie) à des proprié- tés physiques, logiques ou algorithmiques et les interactions humain machine à un problème de calcul et de design ergonomique d'interface. L'épistémologie intégrativiste, dans laquelle se situe mes travaux de recherche, est pour sa part inspirée par l'éthologie, la biologie et la physiologie intégrative théorique. Elle définit le concept d'humain machine comme l'ensemble résultant de l'organisation hiérarchique structurale et des couplages dynamiques de deux catégories de systèmes de nature différente : l'humain en tant que système biologique et anthropologique, et la machine en tant système technique physique, logique ou cyber-physique. Les principaux résultats de mes re- cherches concernent la maïeutique et la modélisation de l'expertise cognitive et sensori-motrice pour la réalisation de base de connaissances d'aide au diagnostic et d'aide aux gestes techniques, la conception d'environnements virtuels (de réalité virtuelle et de réalité augmenté) d'aide à l'action et leur évaluation par des marqueurs comportementaux liés au geste lui-même ainsi que les concepts et les principes généraux d'une théorie intégrative appliquée à la modélisation des systèmes humain machine médicaux, aérospatiaux et de défense. C'est la conception sûre et la construction correcte des systèmes d'assistance et d'aide à l'activité humaine, de l'aide au diagnostic à l'aide à l'action, qui est au cœur de mes travaux et mon projet de recherche pluridisciplinaire a pour but la validation des principes théoriques et des méthodes de co-modélisation intégrative de l'humain machine nécessaires à la bio-ingénierie de conception de systèmes artificiels bio-compatibles, bio-intégrables et éthiques pour l'homme augmenté.
Fichier principal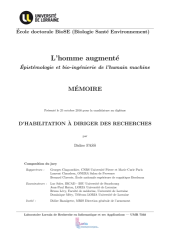 DidierHDR.pdf (5.26 Mo)
Télécharger le fichier
Origin : Files produced by the author(s)