A Chemistry-Inspired Workflow Management System for a Decentralized Composite Service Execution
With the recent widespread adoption of service-oriented architecture, the dynamic composition of such services is now a crucial issue in the area of distributed computing. The coordination and execution of composite Web services are today typically conducted by heavyweight centralized workflow engines, leading to an increasing probability of processing and communication bottleneck and failures. In addition, centralization induces higher deployment costs, such as the computing infrastructure to support the workflow engine, which is not affordable for a large number of small businesses and end-users. Last but not least, central workflow engines leads to diverse inadequate consequences dealing with privacy or energy consumption. In a world where platforms are more and more dynamic and elastic as promised by cloud computing, decentralized and dynamic interaction schemes are required. Addressing the characteristics of such platforms, nature-inspired analogies recently regained attention to provide autonomous service coordination on top of dynamic large scale platforms. In this report, we propose a decentralized approach for the execution of composite Web services based on an unconventional programming paradigm that relies on the chemical metaphor. It provides a high-level execution model that allows executing composite services in a fully decentralized manner. Composed of services communicating through a persistent shared space containing control and data flows between services, our architecture allows to distribute the composition among nodes without the need for any centralized coordination. A proof of concept is given, through the deployment of a software prototype implementing these concepts, showing the viability of an autonomic vision of service composition.
Suite à l'adoption grandissante des architectures orientées service, la composition dynamique de services est devenu un problème important de la construction de plates-formes de calcul distribué. La coordination et l'exécutiuon de Web Service composites sont aujourd'hui typiquement conduits par des moteurs de "workflows" (graphes de composition de services, formant un "service composite") centralisés, entrainant différents problèmes, et notamment une probabilité grandissante d'apparition d'échecs ou de goulots d'étranglement. Dans un monde où les plate-formes sont de plus en plus dynamiques (ou "élastiques", comme envisagé par les "clouds", de nouveaux mécanismes de coordination dynamiques sont requis. Dans ce contexte, des métaphores naturelles ont gagné une attention particulière récemment, car elles fournissent des abstractions pour la coordination autonome d'entités (commes les services.) Dans ce rapport, une approche décentralisée pour l'exécution de Web Services composites fondée sur la métaphore chimique, qui fournit un modèle d'exécution haut-niveau pour l'exécution décentralisée, est présentée. Dans cette architecture, les services communiquent à travers un espace virtuellement partagé persistant contenant l'information sur les flux de contrôle et de données, permettant une coordination décentralisée des services. Un prototype logiciel a été développé et expérimenté. Les résultats de ces expériences sont présentés à la fin de ce rapport.
Fichier principal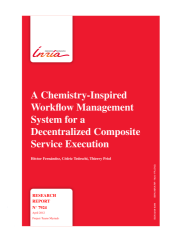 RR-7924.pdf (1.47 Mo)
Télécharger le fichier
Origin : Files produced by the author(s)