Deployment and Evaluation of a Decentralised Runtime for Concurrent Rule-based Programming Models
With the emergence of highly heterogeneous, dynamic and large distributed platforms, declarative programming, whose goal is to ease the programmer's task by separating the control from the logic of a computation, has regained a lot of interest recently, as a means of programming such platforms. In particular, rule-based programming, which allows to simply specify crucial features such as communication protocols or computing workflows, is regarded as a promising model in this quest for adequate programming abstractions for these platforms. However, while these models are gaining a lot of attention, there is a demand for generic tools able to run such models at large scale. The chemical programming model, which was designed following the chemical metaphor, is a rule-based programming model, with a non-deterministic execution specification, where rules are applied concurrently, on a multiset of objects. In this paper, we explore the experimental side of concurrent rule-based models, by deploying a distributed chemical runtime at large scale. The architecture proposed combines a peer-to-peer communication layer with an adaptive protocol to atomically capture objects on which rules should be applied, and an efficient termination detection scheme. We describe the software prototype fully implementing this architecture. Based on its deployment over a large real-world test-bed, we present its performance results, which confirm analytically obtained complexities, and experimentally show the sustainability of such a programming model.
Avec l'émergence de plates-formes réparties à large échelle, et hautement hétérogènes et dy- namique, la programmation déclarative, dont le but est de faciliter la tâche du programmeur en séparant le contrôle d'un calcul de sa logique, a été récemment désigné comme un moyen de programmer de telles plates-formes. En particulier, les langages à base de règles, qui permettent de spécifier de façon simple des éléments cruciaux des systèmes distribués (comme les protocoles de communications) semble un modèle prometteur dans la quête de modèles fournissant un niveau d'abstraction adéquat. En conséquence, le besoin en outils génériques permettant leur déploiement à large échelle augmente de concert. Le modèle de programmation chimique est un langage à base de règles dont le modèle d'exécution est inspiré par les processus chimiques. Dans ce rapport, en nous basant sur le modèle chimique, nous explorons l'exécution distribuée des langages à base de règles en déploy- ant un environnement d'exécution chimique à large échelle. L'architecture proposée combine une couche de communications pair-à-pair avec un protocole adaptatif de capture des données et un mécanisme efficace pour la détection de la terminaison. Nous décrivons le prototype logiciel développé et qui implémente l'ensemble de ces concepts. En nous appuyant sur un ensemble d'expériences menées à large échelle, nous confirmons les analyses de complexités précédemment menées, et montrons la viabilité d'un tel modèle de programmation à large échelle.
Fichier principal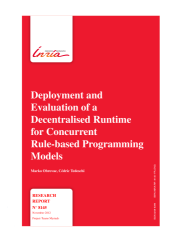 RR-8145.pdf (1.58 Mo)
Télécharger le fichier
Origin : Files produced by the author(s)