Terminal portable de communication et affichage de la reconnaissance vocale. Enjeux et rapports à l'écrit. Étude préliminaire auprès d'adultes déficients auditifs
Despite school education and remediation therapy, deaf adults often keep language and communication difficulties with multiple barriers to find employment or access a job corresponding to their abilities. Speech technologies can provide means of helping them by improving their autonomy. This study focuses on an application in French language which has been developed in the collaborative project Rapsodie in order to improve communication between a hearing person and a deaf person in working situations. Our principal aim was to investigate different ways of displaying the result of speech recognition transcription which took also into account the reliability of the recognized items. 10 deaf adults have been interviewed. We will present their preferences for displaying the recognition output and examine their links with written language cultural practices. Finally, we will point out their necessary lifelong learning strategies and not only learning throughout their schooling.
Les aides technologiques, en particulier dans le domaine de la reconnaissance de la parole ambitionnent de favoriser l'inclusion sociale des personnes sourdes. Cette étude examine une application en langue française, développée dans le cadre du projet Rapsodie, dans le but d'améliorer la communication entre une personne sourde et un interlocuteur entendant, en situation professionnelle. L'objectif principal était d'étudier différentes possibilités d'affichage des résultats de la transcription du signal de parole prenant en compte la fiabilité des mots et des syllabes reconnus. 10 personnes sourdes ont été interviewées. Les choix d'affichages sont en lien avec leurs modes de communication préférentiels.
Fichier principal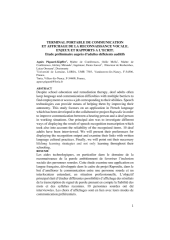 APK_teminal-port-de-communication_2017.pdf (329.09 Ko)
Télécharger le fichier
Origin : Files produced by the author(s)