De la faiblesse de rang en temps-fréquence
The low-rank assumption for spectrogram has been widely used recently for the analysis of audio signals. In this paper, we are interested in time-frequency representations, and more particularly in the rank of the matrix of coefficients obtained after a Short-Time Fourier Transform (STFT). We show that the rank depends on the adopted convention to compute the STFT, and that its behaviour is similar to the one of spectrograms. We apply this result to an audio restoration problem, where missing data are present in the time-frequency plane. The missing complex coefficients are retrieved using a proximal algorithm minimizing the nuclear norm of the STFT matrix, accounting for the low-rank assumption.
L'hypothèse de faible rang des spectrogrammes a été largement utilisée ces dernières années pour l'analyse des signaux audio. Dans cet article, nous nous intéressons à la représentation temps-fréquence de signaux, et plus particulièrement au rang de la matrice de coefficients issus d'une transformée de Fourier à court terme (TFCT). Nous montrons que ce rang dépend de la convention adoptée pour la TFCT et que le comportement du rang se rapproche de celui observé pour le spectrogramme. Nous appliquons ces résultats à un problème de restauration de données manquantes dans le domaine temps-fréquence. Les coefficients complexes sont reconstruits au travers d'un algorithme proximal prenant en compte l'a priori de faible rang de la matrice des coefficients.
Fichier principal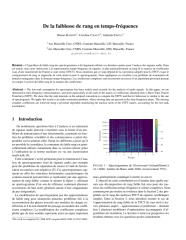 article_gretsi_final.pdf (522.64 Ko)
Télécharger le fichier
Origin : Files produced by the author(s)