ILexicOn: toward an ECD-compliant interlingual lexical ontology described with semantic web formalisms
We are interested in bridging the world of natural language and the world of the semantic web in particular to support natural multilingual access to the web of data. In this paper we introduce a new type of lexical ontology called interlingual lexical ontology (ILexicOn), which uses semantic web formalisms to make each interlingual lexical unit class (ILUc) support the projection of its semantic decomposition on itself. After a short overview of existing lexical ontologies, we briefly introduce the semantic web formalisms we use. We then present the three layered architecture of our approach: i) the interlingual lexical meta-ontology (ILexiMOn); ii) the ILexicOn where ILUcs are formally defined; iii) the data layer. We illustrate our approach with a standalone ILexicOn, and introduce and explain a concise human-readable notation to represent ILexicOns. Finally, we show how semantic web formalisms enable the projection of a semantic decomposition on the decomposed ILUc.
Nous nous intéressons à lier le monde du langage naturel et le monde du web sémantique en particulier pour permettre l'accès multilingue au web de données. Dans cet article nous introduisons un nouveau type d'ontologie lexicale nommé ontologie lexicale interlingue (ILexicOn), qui utilise les formalismes du web sémantique pour que chaque classe d'unités lexicales interlingues (ILUc) porte la projection de sa décomposition sémantique sur elle-même. Après une revue de différentes ontologies lexicales existantes, on introduit brièvement les formalismes du web sémantique utilisés. Nous présentons ensuite l'architecture en trois couches de notre approche: i) la méta-ontologie lexicale interlingue (ILexiMOn); ii) le ILexicOn où les ILUcs sont définis formellement; iii) la couche des données. Nous illustrons notre approche avec un ILexicOn autonome, et présentons une notation concise compréhensible par l'humain pour représenter les ILexicOns. Finallement, nous montrons comment les formalismes du web sémantique permettent la projection d'une décomposition sémantique sur l'ILUc décomposé.
Fichier principal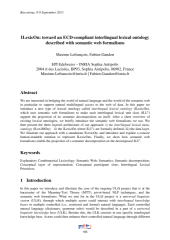 LefrancoisGandon-MTT2011-ILexicOn.pdf (204.93 Ko)
Télécharger le fichier
Lefrancois11ILexicOn-slides.pptx (5.73 Mo)
Télécharger le fichier
Origin : Files produced by the author(s)