Accuracy of unperturbed motion of particles in a gyrokinetic semi-Lagrangian code
Inaccurate description of the equilibrium can yield to spurious effects in gyrokinetic turbulence simulations. Also, the Vlasov solver and time integration schemes impact the conservation of physical quantities, especially in long-term simulations. Equilibrium and Vlasov solver have to be tuned in order to preserve constant states (equilibrium) and to provide good conservation property along time (mass to begin with). Several illustrative simple test cases are given to show typical spurious effects that one can observes for poor settings. We explain why Forward Semi-Lagrangian scheme bring us some benefits. Some toroidal and cylindrical GYSELA runs are shown that use FSL.
Une description imparfaite de l'équilibre peut conduire à des artéfacts numériques dans des simulations turbulentes gyrocinétiques. Aussi, le solveur de Vlasov and le schéma d'intégration en temps ont un impact fort sur la conservation de quantités physiques, notamment lorsque les simulations sont en temps long. L'équilibre et le solveur Vlasov doivent être finement choisis et paramétrés pour conserver les états constants (équilibre) et pour autoriser de bonnes propriétés de conservation en temps (en commençant par la conservation de la masse). Plusieurs cas tests illustratifs sont donnés pour montrer les problèmes numériques typiques que l'on peut observer si les choix pris ne sont pas adéquats. Nous expliquons pourquoi le schéma FSL (Forward Semi-Lagrangian) apporte une réponse à certains problèmes. Des simulations en configuration cylindrique et torique de GYSELA sont présentées qui utilisent FSL.
Fichier principal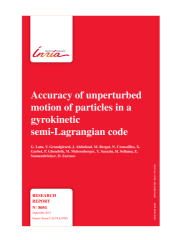 RR-8054.pdf (1.19 Mo)
Télécharger le fichier
Origin : Files produced by the author(s)