Reduced complexity in M/Ph/c/N queues
A large number of real-life systems can be viewed as instances of the classical M/G/c/N queue. The exact analytical solution of this queueing model is not known, and a frequently-used approach is to replace the general service time distribution by a phase-type distribution. The advantage of this approach is that the resulting M/Ph/c/N queue can be described by familiar balance equations. The downside is that the size of the resulting state space suffers from the "dimensionality curse", i.e., exhibits combinatorial growth as the number of servers and/or phases increases. To circumvent this complexity issue, we propose to use, instead of the classical full state description, a reduced state description in which the state of only one server is represented explicitly, while the other servers are accounted for through their rate of completions. The accuracy of the resulting approximation is generally good and, moreover, tends to improve as the number of servers in the system increases. Its computational complexity in terms of the number of states grows only linearly in the number of servers and phases, thus making the numerical solution of such queues with hundreds of servers and a reasonable number of phases computationally affordable.
De nombreux systèmes réels peuvent être vus comme des instantiations de la file classique M/G/c/N. La solution analytique exacte de ce modèle file d'attente demeure inconnu, et une approche fréquemment employée consiste à remplacer la distribution générale du temps de service par une distribution de type phase. L'avantage de cette approche est que la file M/Ph/c/N résultante peut être décrite par des équations d'équilibres familières. Le désavantage est que la taille de l'espace d'état résultant souffre du "dimensionality curse", i.e., il croît combinatoirement lorsque le nombre de serveurs et /ou de phases s'accroît. Pour pallier ce problème de complexité, nous proposons d'utiliser, à la place de la description d'état classique complète, une description d'état réduite dans laquelle l'état d'un seul serveur est représenté explicitement, les autres étant pris en compte par leur taux de fins de service. La précision de l'approximation résultante est généralement bonne et, en plus, elle tend à s'améliorer lorsque le nombre de serveurs dans le système s'accroît. Sa complexité de calcul en terme de nombre d'état s'accroît seulement linéairement avec le nombre de serveurs et de phases, ce qui permet la résolution numérique de ce type de files avec des centaines de serveurs et un nombre raisonnable de phases.
Fichier principal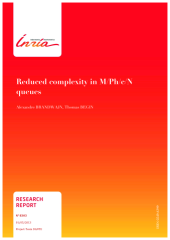 RR-8303.pdf (7.68 Mo)
Télécharger le fichier
Origin : Files produced by the author(s)